#MilanDesignWeek2016
The spotlight is on the 55th edition of the Salone del Mobile
Milano, the platform for innovation and location of choice for
networking and business. Three collateral events dedicated to the
concepts of living, classic furnishing and architectural finishings
respectively, as well as a short film signed by Matteo Garrone.
Over 300,000 operators from more than 160 countries and a
visiting public of over 30,000 people on the Saturday and
Sunday – from 12th to 17th April at the Milan Fairgrounds, Rho.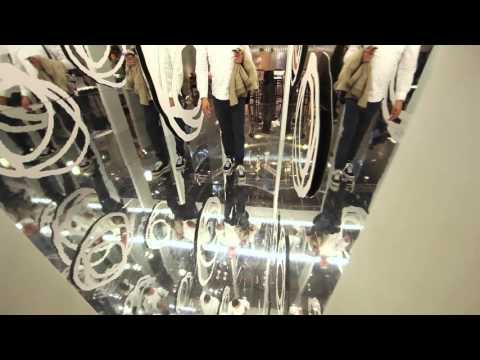 Following the success of the 2015 edition – attended by 310,840 visitors – the 2016
edition will feature the Salone Internazionale del Mobile along with the International
Furnishing Accessories Exhibition, and more than 1,300 exhibitors ranged over 150,000
square metres, split into Classic and Design sections, making for a visitor-friendly
floor plan and a 360° insight into the world of furniture and furnishing
accessories. The biennial EuroCucina and its collateral exhibition FTK
(Technology For the Kitchen) are back, along with the
International Bathroom Exhibition.
Mixing business and culture is the Salone del Mobile.Milano mission. This year, within
the ambit of the XXI Triennale International Exhibition, we will be holding the
"Rooms. Novel Living Concepts" exhibition, curated by Beppe Finessi,
at the Palazzo dell'Arte in Milan, from 2nd April to 12th September 2016.
The exhibition is geared to underscoring the particular remit of interior
architecture and providing a vision of home living projected towards the future.
The upcoming edition of the Salone del Mobile.Milano also wants to pay particular
homage to what came before "actual" design. The exhibition-event "Before
Design: Classic" is a reflection on the classic soul of contemporary living and
the short film by multi-award winning filmmaker Matteo Garrone – screened in
Pavilion 15 F15/H18 – discusses classic Made in Italy taste and its currency in
an audio and visual narration. Artistic Direction by Studio Ciarmoli Queda.
The city event linked directly to the Salone del Mobile.Milano will be "space&interiors"
– organised by the international architecture, design and construction biennial
MADE expo – at The Mall Porta Nuova – Brera Design District: a fascinating
display of surfaces, flooring, doors and interior finishings curated Migliore+Servetto
Architects. The Salone del Mobile.Milano will carry on beyond the event
itself with the Salone del Mobile.Milano Award. A prestigious jury
will assign awards for specific categories, including: best designer,
best young designer, best kitchen product, best furniture product,
best bathroom product, best display and classic furniture.
The award ceremony will be held on 4th May.
Click here to have a full look at the entire program.
Desalto
Flototto
Turri
Molteni&C
Arper
Driade
source: Salone Del Mobile Press Release