#Seapunk
 Do you remember the time when we use to call the Proenza Schouler SS 2010 collection
"pure avant-garde"?  I remember it very well, because I was one of those who thought
that "sea color" mood was just a fleeting trend. The years have passed and internet
(the holy bible) brings me this kind of interesting word: SEAPUNK,
the key to understand that show that i saw in 2009.
It all started with a tweet, times have changed and fairy tales are narrated by twitter nowadays.
They said it was Julian "lil' internet" that had a dream about a punk on the shore with a jacket
studded with barnacles. It took the time to tweet again that another girl retweet Julian's
dream adding the hashtag #seapunk, so the story began.
But what's seapunk?
"Seapunk music could be defined as a style of electronic music that incorporates bits of 90's
house and techno, the past 15 years or so of pop and R&B and the latest in southern rap-trap"
wrote Miles Raymer on Chicago Reader.
Seapunk front artist are Zombelle aka Shan Beaste and Albert Redwine aka Ultrademon,
international founders of  Coral Records Internazionale
(the one and only seapunk label existing).
But you are asking yourself  "did i ever see a hint of seapunk culture?" the answer will be
ten thousand time, yes!
Think about Lady Gaga's turquoise hair, Lady Gaga's "Merry the Night Video", the one
where she played a mermaid, think about Azealia Banks "Atlantis" video, 
think about Katy Perry's 2012 looks, Dazed and Confused and
Kevin Heckart artworks,these are the most representative artist of the seapunk movement.
Are you already in confusion?
Well i can explain you seapunk with a recipe: bring a seashore wallpaper, then put on it some
90's psychedelic graphic and in the end put some dolphins (be generous) and mind the
most important thing, use tons of turquoise.
Where can you find them?
It's easy. Seapunkers follow the internet flow, most of them laying down on Tumblr shore and the
rest on Twitter. Sharing images trough Tumblr, full of dolphins and geometrical graphics,
is actually a way to communicate statements. 
Make Tweets about turquoise and how bad is life without hashtags its the perfect start to be
a seapunker. But seapunk aesthetic conquered pop icons too, a week ago Rihanna
sang her new single "Diamonds" at the Saturday Night Live with
a giant seapunk visual on her back.
It doesn't surprise me now, the new Proenza Schouler fashion video for FW 2012
collection. Now, finally, i get the dolphins.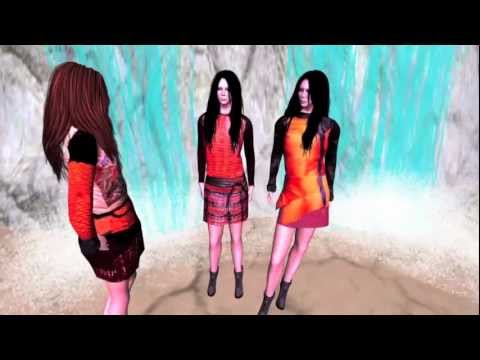 (by Giuliano Federico)
Cover Picture : Zombelle and Ultrademon 
Rihanna sang at Saturday Night Live
Coral Records Internazionale logo by Kevin Heckart
Azealia Banks "Atlantis" video by Fafi